Wheat from the Oltrepò

Our area, our wheat, our growers: We choose to stay local
We have been milling wheat since 1610. Time has taught us to select nothing but the best: the wheat that grows in our local area. Yet good quality wheat is not the only thing it takes to produce good quality flour. Premium flour requires different varieties of wheat and the skill to blend them successfully. We select only wheat grown in our area by trusted producers who are able to guarantee the quality and the traceability of the raw material we work with.
Oltrepò Pavese, our precious "Km 0"; these 1,000 square kilometres of land enclosed between the local areas of Emilia Romagna, Piedmont and Liguria, represent the fundamental ingredient of our unique, top quality product.
The farmland of the Oltrepò Pavese comprises a band of level country bordered on one side by the Po River, and on the other by hills that rise up towards the Apennines and the Ligurian Sea, which lies just some 60 miles away as the crow flies. The unique microclimate, which offers a notable drop in temperature between day and night, makes the area ideal for growing wheat.

Bologna
This is the most widely known variety and the main element that lends the blend its elasticity. It is selected for its aroma and gluten.

Blasco
Carefully added, it lends strength to the dough and is highly resistance. It also gives flour its pale colour. Highly valued by millers due to its excellent milling performance.

Taylor
Provides strength and is the blend's main source of protein. Its high quality gluten goes well with all the other grains.

Ambusson
Widely used thickening agent that lends colour to the blend, it is favoured by growers on account of the ease with which it produces excellent results. On a technological level, it is highly valued for the balanced results achieved in alveograph tests.

Bolero
Lends "refinement" and "workability"to dough without reducing its strength (W). Confers "fineness" to the flours, contributing characteristic wheat bran. It has low productivity and has been present in Oltrepò productions for a number of years.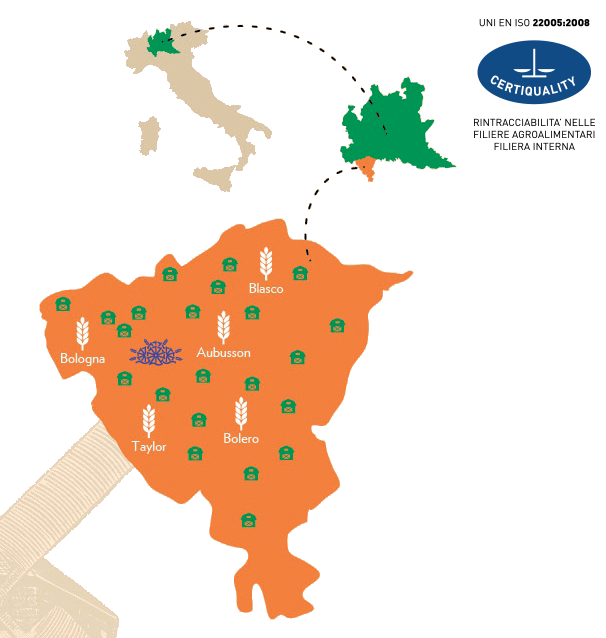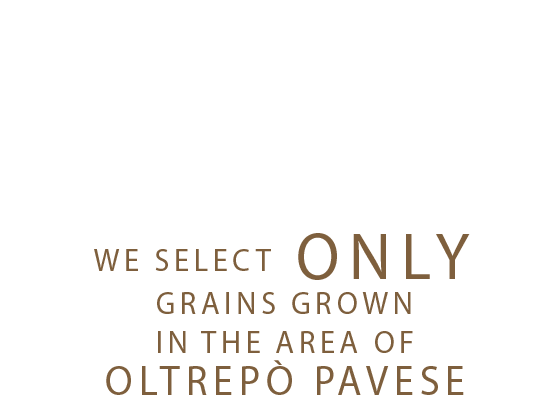 Less environmental impact


Reduction gas emissions from transport

Direct delivery

Zero risk of passive contamination

Safe storage

The company has a large storage capacity

Short supply chain
Supply contracts

The best grains


The Oltrepò Pavese is the ideal territory for growing wheat
Our Growers
Our Growers The map shows the locations of the main farms that provide the grain for our mill.